Youth Videography Workshops
We work closely with tribal governments, environmental non-profits, educational institutions, and public land management agencies to offer workshops and programs that help meet your organization's goals and mission. If you are interested in having us travel to your location to facilitate a workshop experience, please email us, and we will return your message as soon as we're able! 
Youth Mentorship - Filming Alaska's Yellow Billed Loons
The following are a series of videos created as part of a long standing youth videography partnership between the National Park Service, Wildlife Conservation Society, U.S. Fish & Wildlife Service, Alaska State Fish & Game, Alaska Teen Media Institute, and Projects in Motion. This project in 2014 with a trip to a rural homestead near Prudhoe Bay, and since then has resulted in nearly a dozen videos on these magnificent and rare birds. 
Since 2013, we have recruited students from urban and rural Alaska to participate in video production and learn the craft of video storytelling. Our goal was to have the students tell the story of the rare Yellow-billed Loons from a youth perspective. The students traveled with scientists to Bering Land Bridge, Cape Krusenstern, the village of Inigok in the National Petroleum Reserve, and the Helmrick's homestead on the Colville River to experience the loons in their habitat, learn about scientific studies of loons, and collect video footage.
Through partnerships with ATMI, Shishmaref School, West High School, Effie Kokrine Early College Charter School, the Wildlife Conservation Society, USFWS, BLM, and funding from Alaska Geographic and Murie Science and Learning Center grants, the students created three compelling videos about Yellow-billed Loons that resonate with their communities and other youth.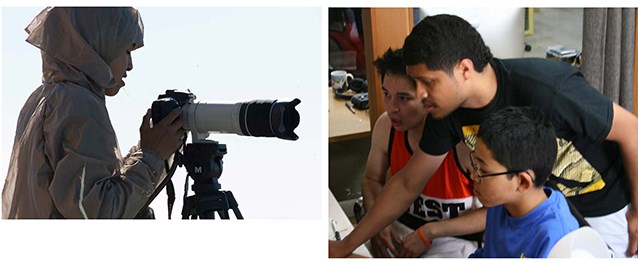 Tribal Youth Video Workshops
We work closely with tribal government to provide opportunities for Native youth to learn storytelling skills and produce their own videos. In 2021, we facilitated a two week long immersive storytelling workshop as part of the Yukon Flats Indigenous Language Institute in Fort Yukon, Alaska. During this program, we directed a group of seven youth in the shooting and production of the following video. 
Youth Mentorship - Next Generation Scientists
In 2016, we facilitated a weekend video production workshop for National Park Service biotech interns on the Small Mammal Monitoring Program, one of the National Park Service's Vital Signs used to monitor the health of northern park ecosystems. These are the resulting videos.